9 November, 2022
0 Comments
---
Camp Mishewah is celebrating 50 years of Memory making, and hosted a Jubilee Party, June 30th to July 3rd, to start its season of festivities. Invitations were extended to everyone whose lives have been impacted by spending a slice of their time here. Over 250 people were in attendance.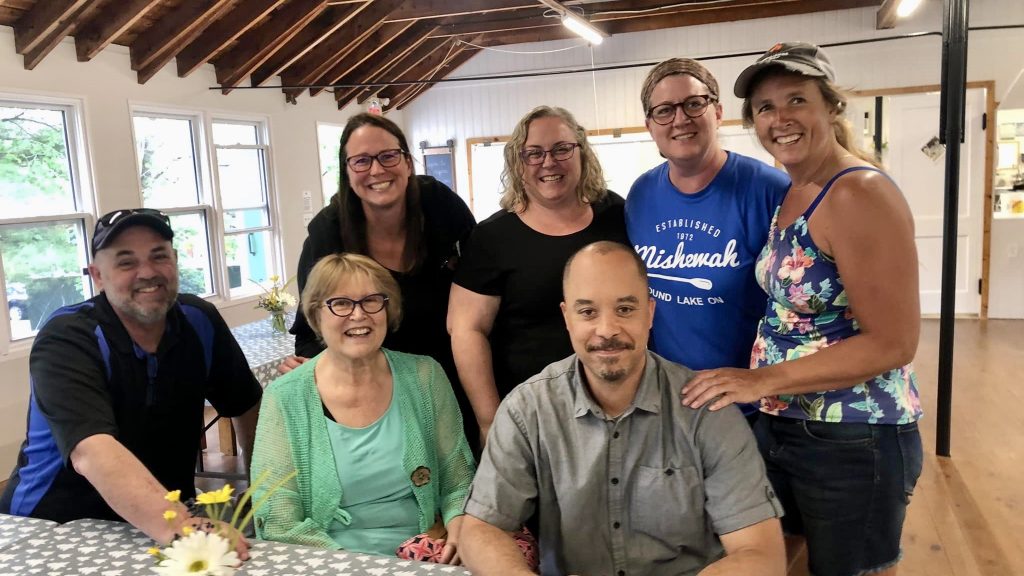 What is the secret of Camp Mishewah that draws the hearts of those who return as often as possible? Everyone has a different feeling; and each one expresses it differently. The "feels" of staff members, campers, family reunions, friend's reunions, create remembrances of time onsite and measurements of personal growth, which renewed, refreshed and relaxed us.
In preparation for its Celebration, Mishewah was looking its finest, with exceptional grooming and preparation by managing directors Steve and Jeanette Balzer, head cook Leisha Jennings, and their staff members.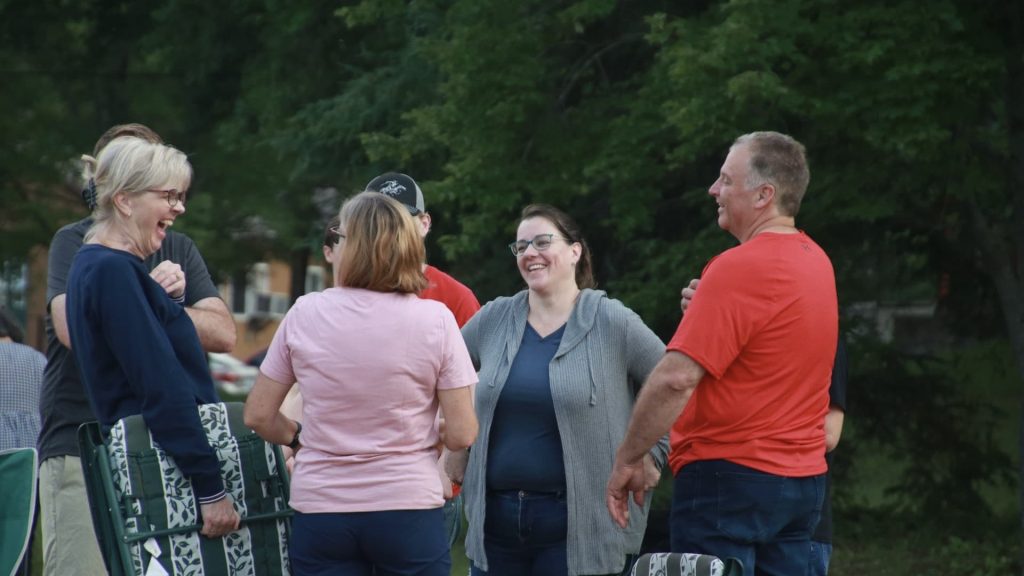 The Jubilee weekend was a pleasureful balance of special activities and opportunities to visit with Mishewah family and friends. Many conversations included the phrase "Remember the time?" and frequently ended with laughter. A personal favourite conversation of mine was an exclamation by Dave Fretz that "other than Christmas morning as a kid, driving in the laneway of Mishewah is the best feeling in the world!"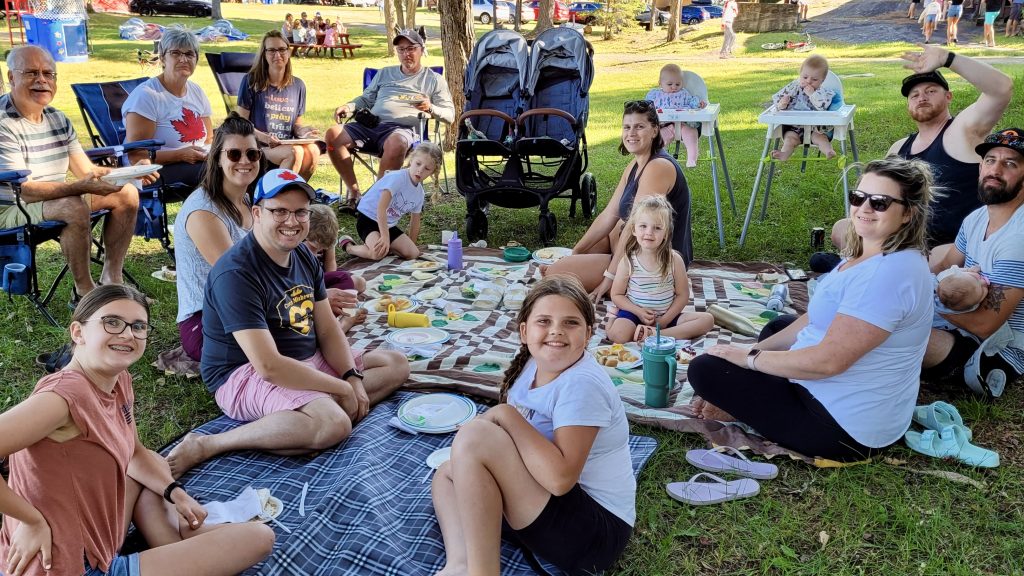 Throughout the weekend special events included a lively campfire with audience participation and fantastic fireworks that "oohed and awed" our campers and cottagers around our bay. A community supper of Barbequed Pork was enjoyed by everyone on Saturday evening. Carefully tended to by pit master Adam Langlois along with fantastic marinades and sauces that were developed by Leisha especially for this special meal, the fragrance was already starting to tantalize early in the morning! Following supper, an evening concert was enjoyed with well-known Canadian Christian artist Jacob Moon.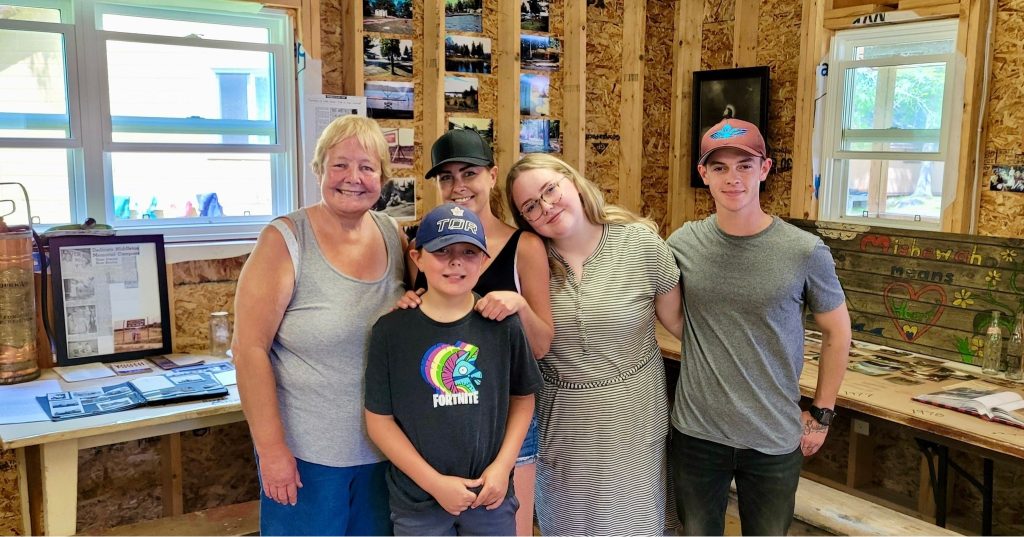 The Jubilee committee, spearheaded by Aaron Balzer, started meeting on a monthly basis in the spring of 2021. Aaron's vision of creating a Memory Cabin brought the History of Camp Mishewah to life. So many conversations and highlights! Set up by decades since the beginning of The Missionary Church Canada East District's ownership of the camp in the 1970's, there was an opportunity to recognize staff who have served throughout the years. Many people sent in pictures and attendees loaned their photo albums for the weekend. One table was dedicated to the historical stewardship of the land by the Anishinenabewaki and Algonquin Indigenous peoples. As well, an area was set up with memorabilia and documentation from the Middleton Family, who cleared the land and constructed some of the original buildings and ran youth camps on site from 1956 to 1968. A highlight was the visit by their Granddaughter, Cathy, and her family. It was fun to hear her stories and her impressions of the camp's improvements.
Many, many conversations spoke of the vision of Bill Smith and his hard work in securing the purchase of the camp. Much of the site work was done by the Northern Churches, under his guidance. Many discussions described his hospitality and that of the Northern Churches, who welcomed everyone to their style of Family Camp. Written testimonies by Mary Ann Timlock and Jean Jewitt, talking of preparing the camps for the first Youth Camps is 1973, as well as a home video taken by the Jewitt family (discovered just weeks before the Jubilee), provided an appreciation for the work that was done, including hand-making mattresses and building "tabins". Many visited the Memory cabin and soaked in the best parts of their lives. It was fun to see new generations being introduced to their family history – whether it was on staff, Family Camping or as Youth Campers.
Mishewah's final corporate Celebration tied all the good parts of the Jubilee Weekend together. Worship was led by Jacob Moon, finishing his set with "Goodness of God". Considering the stanza of "All my life You have been faithful, all my life You have been so, so good" turned our thoughts to how God's faithfulness has been felt and known through the years at Camp Mishewah. EMCC President John Cressman, who credited God's guidance to his spiritual formation through examples of leadership and memories of programs and Family Camps at Mishewah, recreated a Psalm that left listeners in tears, laughter, and nodding in collective agreement of his lifelong experiences at Mishewah.
We look to our next Jubilee with excitement, knowing that a fourth generation of families will continue to be blessed by God's presence and grow in personal knowledge of His Faithfulness and love. We look to Norah and Hannah Clayton (Bob and Carol Shantz), Ila and David Cressman (Gerald and Mary Anne Timlock), Alizee, Jasmine, Eloise, Elias and new baby Loback (Len and Joan Junop) who attended our Jubilee along with many other multiple generations who have supported and been blessed by our piece of Heaven on Round Lake, to care for it and love it, just as we have!
As David, the Psalmist, and John Cressman reminded us:
"Give thanks to the Lord, for He is good. His faithful love endures forever"
Suzanne "Rosie" Brocklebank
Suzanne, known fondly by most campers as "Rosie", played a huge role at Camp Mishewah from the late 70's to the 90's, as youth camp director and various other roles. She worked as associate/youth pastor at West Rouge Community Church with Lloyd and Marie Fretz, as associate pastor at First EMC Pembroke, and at the EMCC District office, as well as working in Recreation and Programme Planning for over 15 years, assisting camps with staff training, programming, operations, developing risk management programs, working with camps directly, teaching in College settings, and inspecting camps for the Ontario Camping Association. Rosie brought invaluable creativity, historical knowledge and context to the Mishewah Jubilee Committee, and along with Shelley Martindale, connected with countless visitors to the Mishewah Memory Cabin over the course of our weekend of celebration.