3 December, 2019
0 Comments
---
#GivingTuesday is here!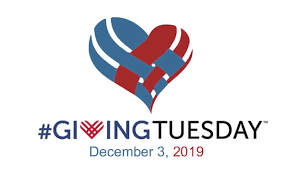 From the GivingTuesday website:
"Giving Tuesday is a global movement for giving and volunteering, taking place each year after Black Friday. The 'Opening day of the giving season,' it's a time when charities, companies and individuals join together and rally for favourite causes. In the same way that retailers take part in Black Friday, the giving community comes together for GivingTuesday."
So today, and as we head into the final month of 2019, we invite you to consider including ECM in your year-end donations.  This Holiday season, your donation or monthly gift can help us to improve programs and facilities, continue to provide high-quality, life-changing camp ministry at Stayner and Mishewah, and live out our Vision and Mission moving forward.  As a not-for-profit, we rely on the generosity of donors, and we are grateful for faithful supporters who contribute financially to our camps.
We have a number of projects and areas to which you may wish to designate a donation:
General Operations
Capital Projects often receive the bulk of fundraising attention, but donations to the General Operations of the camps are also essential.  These donations allow us to meet our budget as we end the fiscal year.
Stayner Debt Reduction
The largest dollar amount on our list is our Stayner Mortgage, dating back to a major lodge renovation from 2014.  The mortgage comes up for renewal in early 2020.  $91,200 remains on the principle.
Stayner Kitchen Renovation
The bulk of the Stayner Kitchen Renovation was completed last winter and spring.  The much-needed update has been incredibly well-received by our kitchen staff and rental groups, streamlining work and significantly improving efficiency.  Insulation of the roof is still to take place, and approximately another $23,400 is needed to complete paying off the costs of the project.
Climbing Wall
We are still fundraising for a portable Climbing Wall, for use primarily at Mishewah.  The wall is on a trailer, so we will be able to move it to storage for the off-season to avoid wear from the harsh winter weather.  $26,000 is still needed toward the Climbing Wall purchase.
Mishewah Electrical Infrastructure
The Mishewah Electrical Infrastructure project is a major overhaul to our entire electrical system which includes moving the bulk of the power lines underground to offer protection from weather and wear, improving power to campsites and cabins, and building capacity for new cabins.  Our Mishewah Mission Trip volunteers have done significant work on this project over the last several years, but the bulk of the remaining work will need to be contracted to professionals.  $63,800 is needed to complete the project.
"Pay Their Way" Camper Scholarships
Donations are always welcome toward our Pay Their Way Camper Scholarships, which allow kids, who might not otherwise have the opportunity, to attend a week of camp.